For the recovery and purification of many metals and other chemical products, hydrometallurgical processing provides a cost-effective option.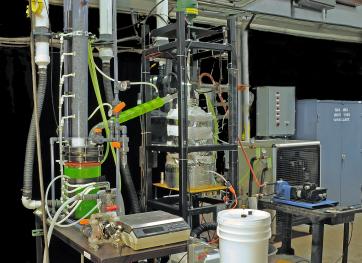 Our beginning and early growth more than 50 years ago were based largely on our skill and experience in hydrometallurgy. The technical staff at Hazen has completed thousands of hydrometallurgical projects for clients, recovering metals from ores and waste streams (see Environmental Services) and producing inorganic chemicals.
Due to variations in ores and other feedstocks, different leaching, separation, and purification operations need to be evaluated for each application, Hazen's mineralogical expertise (see Process Mineralogy) is used extensively to characterize feed materials and product solids in developing processes for our clients. The process must not only take into account the extraction and purification of the product, but also needs to consider environmental requirements, effluent treatment, and reagent recycling. Hazen's engineers work with clients to develop a cost-effective process flowsheet that is specific to their situation.
In many instances, hydrometallurgical processes are coupled with physical separation steps (see Mineral Beneficiation) and comminution (see Comminution) to prepare the feed. In other cases, the feed is oxidized or reduced by thermal processing (see Thermal Processing) before further hydrometallurgical processing.