Hazardous Waste Treatment
In 1988, Hazen was the first company in Colorado to be authorized to perform studies under the hazardous waste treatability exemption.
Hazen has also performed numerous hazardous waste studies under Research, Development, and Demonstration (RD&D) regulations for studies exceeding the treatability study exemption limits.
Our hazardous waste experience includes treating Resource Conservation and Recovery Act (RCRA) contaminated media, including the following:
Mercury, lead, arsenic, and other heavy metals
Semivolatile and volatile organic compounds
Cyanide
Petroleum
Radionuclides
Our treatment technologies include low temperature desorption, pyrolysis, thermal oxidation, vitrification, soil washing, leaching, solvent extraction, gravity separation, and chemical oxidation. All hazardous waste studies performed at Hazen are in full compliance with US Environmental Protection Agency (EPA) and Colorado Department of Public Health and Environment (CDPHE) regulations.
In addition to our RCRA waste treatment capabilities, Hazen is authorized to perform treatment studies of polychlorinated biphenyl (PCB)-, dioxin-, and furan-contaminated media under the Toxic Substances Control Act (TSCA) research exemption.
Our Radioactive Materials License (Colo. 77-02), issued by CDPHE, allows Hazen to perform studies on certain radioactive and mixed wastes. Hazen is certified by the EPA and many states for radiochemical analysis.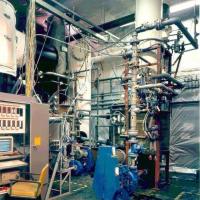 Service Applications
Related Capabilities