Hazen can receive and process bulk solids whether they are delivered in gram or metric ton quantities.
The limiting factor in analytical accuracy is frequently the quality of sample preparation rather than the precision of the analytical procedure. This set of arts and sciences includes the ability to adequately sample bulk solids (from gram to ton quantities) by various grinding, pulverizing, screening, and blending techniques to produce a representative material of uniform, homogeneous character.
Hazen's Sample Preparation Department performs this function for the Analytical Laboratories and supports the company's process development activities.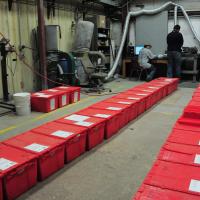 Service Applications
Related Capabilities