Hazen maintains two commercial analytical laboratories in Colorado offering services to industry and private parties.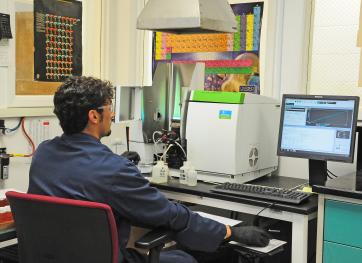 Hazen Research and Huffman Hazen Laboratories provide a wide selection of analytical services. Our clients include public and private organizations worldwide as well as individuals. We understand how important it is that your processes are safe and efficient, therefore we ensure that our analyses are accurate, timely, and precise.
In addition to our standard analytical services, our laboratories also customize established analytical methods for difficult-to-analyze materials in support of special projects, process research, and pilot plants. These processes are unique; please Contact us to talk about your specific analyses needs.
Our laboratories can characterize the properties of most materials. We have performed analyses on materials including minerals and metals, precious metals, brines, drinking water, paint, gases, and radioactive materials. Our fuels analysis capabilities include analyses of the following: ultimate–proximate, ash, ash fusion, elemental ash, Btu, and other methods for characterizing coal, biomass, and similar materials.
The labs will work with other Hazen groups using the following techniques and instruments:
Inductively coupled plasma–optical emission spectroscopy (ICP–OES)
Inductively coupled plasma–mass spectrometry (ICP–MS)
Atomic absorption spectroscopy (AAS)
X-ray fluorescence (XRF)
Thermogravimetric analysis (TGA)
Request Services