Precious Metals/Fire Assaying
"There is no such thing as 'un-assayable gold by the fire assay method,'" John Marsden, The Chemistry of Gold Extraction.
Hazen offers a full suite of services to those interested in assaying for precious metals and platinum group metals (PGMs). Please Contact us to obtain a quote for fire or gold assay, and to learn more about our PGM services and capabilities.
Hazen's modern fire assay facility permits rapid turnaround time and a high rate of production. Hazen performs fire assay for analytical purposes only and does not offer refining services.
Standard gravimetric finish, atomic absorption (AA), or inductively coupled plasma (ICP) analysis of fire assay doré beads are used as needed.
Platinum, palladium, and rhodium are also analyzed by fire assay using the gold inquart procedure and an ICP-OES finish.
Please note: Hazen certifies that results are representative of only the discrete samples analyzed by the laboratory and that these results may not be representative of anything other than the as-received samples.
Precious Metals Analysis
Required Sample Quantity
Cost, US$
Sample preparation (slitting and pulverizing)
Up to 1 kg
20
Gold by fire assay
90 g
30 (40 with AA finish)
Gold by MIBK extraction and FAAS
100 mL
50
Gold in cyanide liquors by DIBK extraction and FAAS
50 mL
40
Gold bullion analysis by fire assay
3+ g
60
Silver by fire assay
90 g
30
Silver by FAAS
5 g
20
Gold + silver by fire assay
90 g
35 (40 with AA finish) 
Gold + silver in activated carbon samples by fire assay
10 g
45
Platinum, palladium, or rhodium by fire assay and ICP-OES
120 g
1 element: 50
2: 70
3: 90
DIBK = diisobutyl ketone

FAAS = flame atomic absorption spectroscopy

ICP-OES = inductively coupled plasma–optical emission spectroscopy

MIBK = methyl isobutyl ketone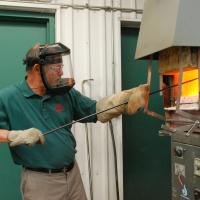 Service Applications
Related Capabilities