Hazen maintains a radioactive materials license with the Nuclear Regulatory Commission that allows for short-term storage of samples and feedstock material for experimental purposes.
Hazen has provided analytical services for the uranium mining and processing industries since the early 1960s. An outgrowth of this activity has been the Radiochemistry Laboratory, which specializes in the determination of the long half-life radionuclides of the uranium and thorium decay series and radionuclides produced from nuclear power generation. These isotopes emit alpha, beta, and gamma radiation.
We hold the State of Colorado certification to perform radiochemical testing on drinking water from domestic and foreign sources. Typical parameters include gross alpha/beta, gross gamma, radium-226, radium-228, radon in water, thorium, and uranium.  Most of these analyses can be performed on waters, soils, and ores. 
View the Radiochemistry Fee Schedule or Contact Us for additional details.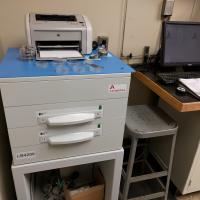 Service Applications
Related Capabilities