Hazardous Waste Treatment
Since 1992, Hazen has performed approximately 70 treatability studies of materials classified as hazardous waste.
This experience includes the treatment of soils, sediments, and sludges containing pesticides, polychlorinated biphenyls (PCBs), dioxins and furans, cresol, petroleum fuels, styrene, and a number of other organic contaminants. We have also successfully treated samples containing inorganic contaminants such as heavy metals, radionuclides, and cyanide. In most cases, the waste samples contained multiple contaminants. Potentially applicable treatment technologies include thermal processing methods such as low-temperature thermal desorption, pyrolysis, thermal oxidation, and/or waste vitrification, and physical separation methods such as soil washing, screening, gravity separation, and aqueous processing methods including leaching, solvent extraction, and chemical oxidation. Hazardous waste studies are performed in full compliance with the terms and conditions stipulated in the applicable approvals and/or licenses (summarized below). If necessary, we can obtain a project-specific Research, Development and Demonstration (RD&D) permit for studies requiring exceptionally large volumes of waste.
RCRA-Regulated Wastes. Hazen is authorized by the Colorado Department of Public Health and Environment (CDPHE) to conduct treatability studies on samples of waste that are listed and/or characteristic hazardous wastes under the Resource Conservation and Recovery Act (RCRA), at their site of generation. Such studies are permitted under the conditions of Colorado Regulations 6CCR 1007-3 (261.4)(e) and (f) governing treatability studies
TSCA-Regulated Wastes. The U.S. Environmental Protection Agency (EPA) has issued Hazen an approval to conduct research and development into PCB disposal pursuant to Section 6(e)(1) of the Toxic Substances Control Act (TSCA) of 1976, Public Law No. 94-469, and the Federal PCB Regulations, 40 CFR Part 761.60(e).
Radioactive Materials License. The CDPHE regulates and licenses most uses of radioactive materials in the state of Colorado. Through an "agreement state" arrangement, the CDPHE has issued Hazen a Radioactive Materials License in accordance with U.S. Nuclear Regulatory Commission (NRC) regulations. This license, Colorado 77-02SF, allows for the transfer, receipt, possession, and use of certain radioactive materials. The conditions of the license are quite specific, but with adequate lead time, the license can be modified to accommodate most project-specific requirements. Hazen's designated Radiation Safety Officer oversees our Radiation Safety Program and is responsible for reviewing test procedures and monitoring each project to ensure compliance with the program.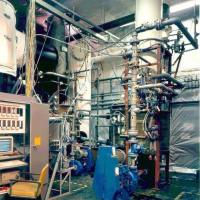 Service Applications
Related Capabilities